NETIA'S NEW DATA CENTER FILLS UP AT A RECORD PACE
The new, fully green-powered Netia Data Center MIND in Jawczyce near Warsaw has been operational since the beginning of April 2021. In its third week of operation, this state-of-the-art Data Center has been already commercialised at 32%!
The modern Data Center of the Netia Group in Jawczyce –
Netia Data Center MIND
– is located less than 10 km from the centre of Warsaw, near S8 and S2 expressway. This multifunctional, modern facility consists
of over 1,000 m2 of server space (4 chambers allowing for co-location of nearly 520 racks) and dedicated office space
to be arranged according to the lessees' requirements. The first client who, among others, uses the collocation and leased lines services, "remote hands" services and rents additional office space is
CloudFerro
, a company providing cloud computing services.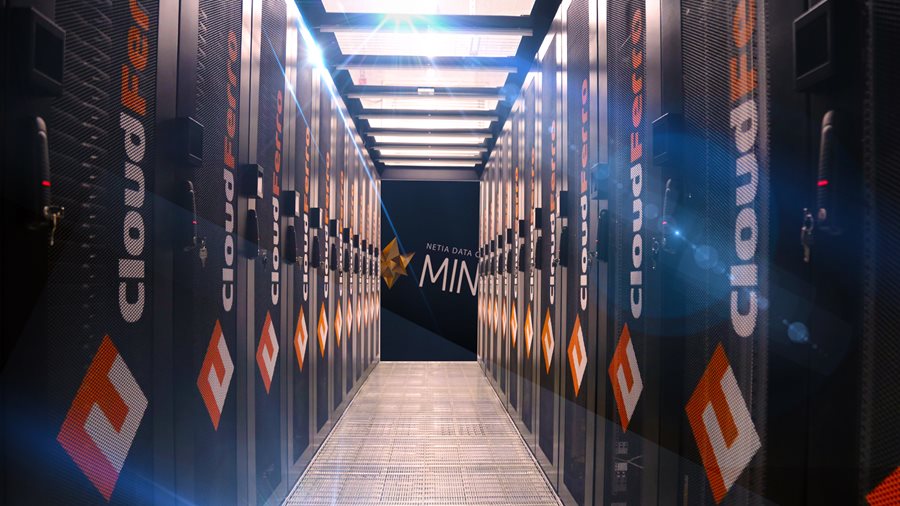 "Due to the dynamic growth of CloudFerro, we were looking for another data center in Warsaw which would scalable to at least 100 server racks. One of the most important selection criteria was the safety and reliability of the facility, starting from physical security, power supply and cooling, i.e. from the use of the latest technologies to its location. What is extremely important for both us and our clients is selection of solutions that are environmentally-friendly, which in this case is ensured by high energy efficiency of the facility and use of renewable energy sources. The new server room in Jawczyce meets all our requirements in this respect. We also appreciate Netia's understanding of business issues and its partnership approach,"
said Grzegorz Pawlicki, Hardware & Procurement Team Manager at CloudFerro.
In addition to this leading Polish provider of cloud solutions, other big businesses using our new facility include entities from the financial and logistics sectors. Within the first 3 weeks of its launch, the facility has become 32% full!
"Over the past year we have done a tremendous job in preparing the product, the marketing offer and sales activities. We have launched a number of initiatives to support commercialisation and we already have positive results. Such efficient commercialisation also confirms that the strategic development directions set by NetiaNext are correct and that the professional data center market in Poland still has the best ahead of it, as does the local cloud service market,"
said
Rafał Bakalarz, B2B Sales Director for ICT.
"The speed at which the previous Data Center investment in Warsaw at Poleczki Street was commercialised and the impressive results of the first weeks of operation of the new facility near Warsaw show that our clients appreciate our professional and comprehensive care, high level of redundancy and security of our facilities. Thanks to that, even on such a competitive market as the Warsaw one, we are able to grow fast,"
said Andrzej Abramczuk, President of the Management Board and CEO of Netia.

Ecology and safety
The Netia DC MIND facility meets
Class 3
certification requirements,
according to EN/PN 50600 standard
and has been designed with great attention to safety and ecology. State-of-the-art access control systems, fire protection and a number of solutions increasing energy efficiency have been applied.
The entire complex is powered by 100% green energy.
In terms of back-up power supply also the most modern and ecological solutions have been employed, consisting mainly of two HITEC PowerPRo2700 DRUPSes with the capacity of 2000 kW each. Unlike ordinary (static) uninterruptible power supplies (UPSes), DRUPSes (Diesel Rotary UPSes) do not use batteries but store kinetic energy in a rotating mass. This solution reduces the necessity for system maintenance and is environmentally friendly as there is no need to dispose of batteries or perform their inspections and measurements frequently. DRUPSes are also characterised i.a. by longer service life and high reliability.