High degree of security
Netia Data Centers are equipped with i.a. TIER 3 standard security systems, technical infrastructure from leading suppliers, access control and 24-hour monitoring, among other features. This allows you to ensure the highest protection of your company's resources and business continuity
Support for your business


A wide range of services to choose from, including cloud, collocation or dedicated servers, will provide the support you need to grow your business. At any time you can rely on the assistance and advice of Netia experts who will quickly solve any problems and offer optimum IT solutions.
Excellent location
Being located in major business centers in Poland, including DC MIND and HEART in Warsaw and DC SOUL in Kraków, means convenient access and, most importantly, a location close to your business with which you will get greater efficiency in applications and systems or website performance. All this is due to the minimum latency of data transfer between the data center and one's own headquarters.
Physical security
including 24/7/365 monitoring and physical protection, SKD, CCTV, SSWiN protection
Fire safety
with gas extinguishing system and VESDA – Very Early Smoke Detection Apparatus
Eco-friendly air conditioning
with freecooling system in min. N+1 redundancy
Power supply system
with 3 independent power lines, UPS modules and battery backup (including DRUPS)
Green energy
from renewable sources, powering Netia Data Center facilities
Remote Hands support
24/7/365 and support from Netia engineers
Data centers that drive your business
Netia Data Centers are state-of-the-art data centers that will enhance your business operations by ensuring the security of your data and IT infrastructure.
Certificate - innogy Polska SA confirms that Netia's Data Centers are powered by energy from renewable sources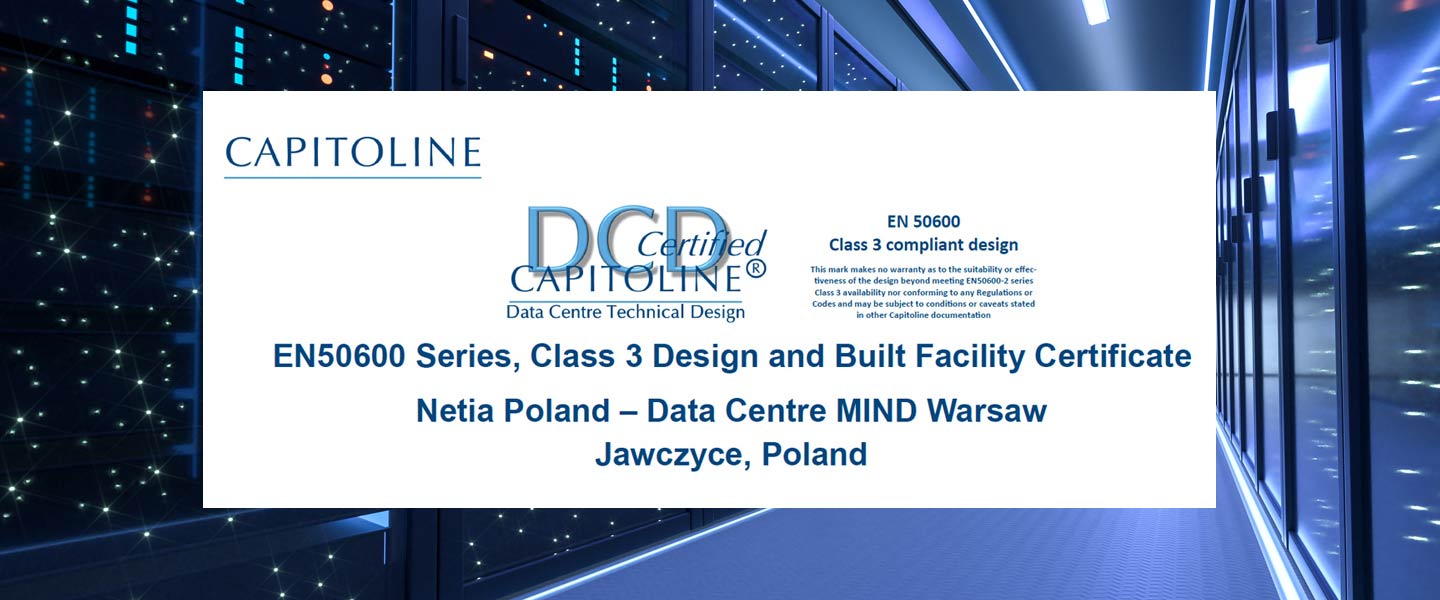 What is a Data Center?

Data backups, protects against natural and man-made disasters such as floods, storms, and terrorist threats. Netia has many data centers spread across the country. However, the most important are three of them: Heart, Brain & Soul – located in Warsaw and Kraków, equipped with TIER 3 standard security systems, specialized technical infrastructure from top suppliers, ultra-modern firefighting equipment and round-the-clock security.

Who uses the Data Center?

Any person, company or entity that generates or uses data. This ranges from government and educational institutions, telecommunications companies, financial institutions and retailers to users of social networking sites such as Google or Facebook.

What services does the Data Center offer?

Data centers offer data storage, backup and recovery, data management and network transfer services. They can store and operate websites, provide resources and applications stored in clouds, enable banking transactions and the operation of e-commerce stores, create venues for online gaming communities, and do many other things that require constant processing of incredible amounts of information. Data center services can involve infrastructure, software, processes and IT personnel. These include:

Installation, service, maintenance and upkeep of equipment
Server collocation and leasing
Rental of a rack in a collocation center, box or server room space
Management and provision of connectivity, links and Internet access
Public, private and hybrid cloud services
Providing security: firewalls, anti-malware programs, protection against DDoS attacks
Backup and restore and data archiving

What are the benefits of using Data Center services?

Adequate storage of data is of great importance for its security, so it is worth paying attention to the choice of professional services. Using the services of an external data center, the customer is free to focus on the fundamental activities of their own company. What does a modern Data Center guarantee?

In practice, a modern Data Center is a solution that:

offers customers services at affordable rates with various options depending on the lease term and requirements,
provides immediate scalability in case customers' needs change,
provides an excellent software and hardware environment,
provides a system with optimum performance by distributing the load among the nodes of the cluster.

Users/customers do not have to worry about hiring stuff to maintain and manage data centers. Services are available at all times and without failover resulting from backup or recovery.